Ok I know, I know there are already about a million posts on the internet about making your own homemade laundry soap...so why the good gravy do I need to add yet another to the mix?
Well, I've learned a few things while researching and thought I would share that information with you all as well as what recipe I find works best for me.
First the research findings
Fels Naptha should not be used as an overall body soap or regular laundry additive since it contains Stoddard solvent, a skin and eye irritant. Stoddard solvent is another name for mineral spirits, which are, like petroleum distillates, a mixture of multiple chemicals made from petroleum. Exposure to Stoddard solvent can cause eye, skin, or throat irritation. Also I worry about grating it or making it into a powder as breathing it in the air can cause headaches and dizzyness (UPDATE - Fels Naptha no longer includes Stoddard Solvent in their ingredients list. Horray!!)


Sodium Percarbonate - is a water-soluble powdered chemical compound of sodium carbonate (Washing Soda) and hydrogen peroxide. It's the active ingredient in many powdered oxygen bleach products such as Shout Brand Oxypower. (Also note that adding household peroxide to your wash along with washing soda will not produce sodium percarbonate - the 3% peroxide we can buy is not strong enough)

Oxy-Magic, OxyClean and most other Oxy brands have about 25% less Sodium Percarbonate than Oxypower does so it will be less effective. Also note: Don't use All brand Oxy-Active - it's a sodium perborate based product and not Sodium Percarbonate. Perborates work good in hot water but has very limited solubility in lukewarm and cold water so unless you always wash in hot water this will not work good for you.


Citric acid powder chelates the metals in hard water, letting the cleaners produce foam and work better. It also helps soften the fabric.


Washing soda is usually sold in gocery stores under the Arm & Hammer brand name. If you are having a hard time finding it at the grocery store, check a hardware or pool supply store for Soda Ash or Sodium Carbonate - it is exactly the same thing!
Borax works in conjuction with the Sodium Carbonate (washing soda) to soften hard water


Baking soda helps remove detergent build up and odors from clothes.
Bluing agents should NEVER be used with bleach or fabric softener and should ALWAYS be diluted in at least 2 quarts of cold water before adding to the machine.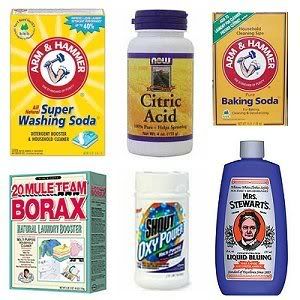 Ok now with all that out of the way, here is what I find works best for us. I make up two batches as I wash DH's work uniforms at home.

Everyday Laudry soap

2 cups grated castile or homemade soap

1 cup washing soda

1 cup borax

1/2 cup baking soda

1/2 cup citric acid (optional - for hard water users)

Combine all ingredients and store in a container with a tight fitting lid. Add 2 tablespoons to each load. I also add 1/2 cup vinegar to my fabric softener dispenser

Dirty Icky Work Clothes Laundry Soap

2 cups grated castile or homemade soap

2 cups borax

2 cups Shout brand OxyPower

2 cup washing soda

1 cup baking soda

1 cup citric acid (optional - for hard water users)

Combine all ingredients and store in a container with a tight fitting lid. Add 2 tablespoons to each load. I also add 1/2 cup vinegar to my fabric softener dispenser

For dingy or yellowed Whites

(1-2 times a year)

Launder as usual. Fill washer again with cold water for a second rinsing.

Mix 1/8 tsp laundry bluing into 2 qts cold water. Add this mixture to the second rinse cycle

Dont use fabric softener or vinegar in this bluing rinse!

If you can't find bluing at your store go here to find a retailer near you:

http://www.mrsstewart.com/pages/wheretofind.htm

What is bluing?

Manufacturers of sheets, towels, linens, shirts etc., put their white fabrics through a process of bluing before they sell them. After you use/wear the items for awhile soil and stains mar the color and you wash them. The detergent, bleach and water lift out the dirt and stains and the fabric is clean, but after a few months it is not "snow-white" anymore. To counteract this yellowing, you need to re-blue the items. A little diluted bluing in the washing process or in the last rinse water adds the necessary tint to restore the fabric to a snow-white color. (and now you know why most liquid commercial detergent is blue!)